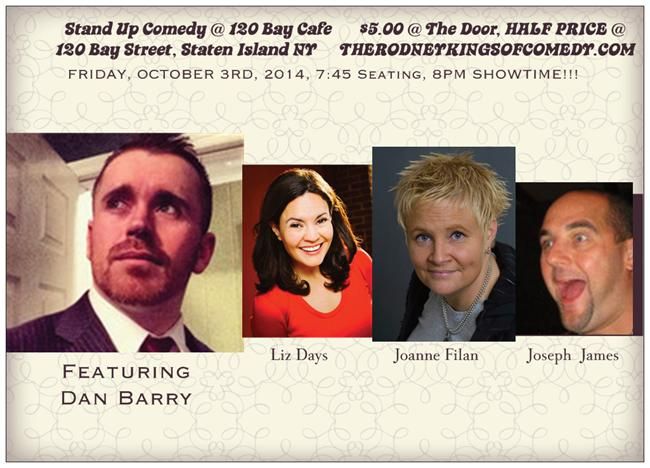 GENERAL ADMISSON TICKETS ARE ONLY $2.50 if you purchase them BEFORE 10-3-14, $5.00 AT THE DOOR!!! Bring payment printout as your ticket! If your printer doesn't work, just bring something with your name on it! You must be at the show by 7:45PM 10-3-14.
120 Bay Cafe is located @ 120 Bay Street, Staten Island NY
walking distance from the Staten Island Ferry and close to buses and trains! Free parking after 7PM!!!
Our show will be in the back room. There is NO drink minimum but there IS a full menu of food and drinks available and there will be table service. Featured comedians are Pro Wrestler, Dan Barry, Joanne Filan, Liz Days, Joseph W James and more! If a particular comedian cancels, don't worry the show will go on. Sorry, no refunds unless a hurricane blows us all away in which case you won't really be that worried about a $2.50 comedy show. Enjoy!